Our work extends beyond the scope of standard research and program interventions. We seek opportunities to expand our collective impact through programming that complements the spirit of community-engaged scholarship.
We continuously integrate research, interventions, and learning from our collaborations. These fall under four areas of focus: School Partnerships, Workforce Development, Youth Data Literacy and Leadership Development, and Developing Mentoring and Methods for community engaged research and scholarship.
School Partnerships
TPS research follows children as they grow. Through partnership with TPS, schools and districts implement integrated, age-appropriate programs and approaches for students and staff under the umbrella of "Healthy and Thriving Schools." Topics include promoting childhood literacy, socioemotional learning, violence prevention, race and gender equity, and positive physical and mental health.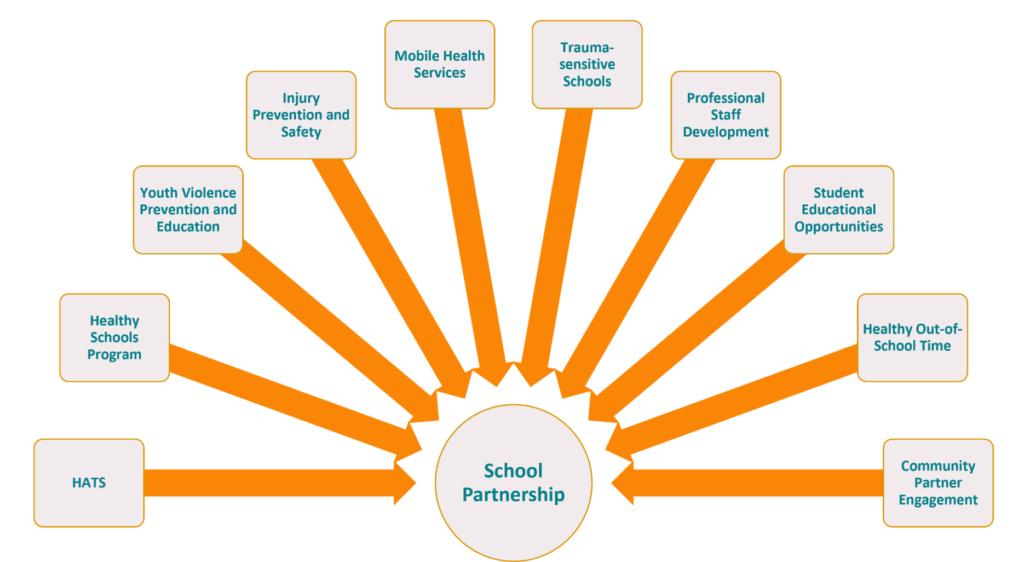 Workforce Development
Community Facilitators play a vital part in what we do. Over the next few years, we envision creating up to fifty new positions to carry out this work. We are refining a systematic and inclusive approach to recruitment, training, and onboarding. Our goal is to have these roles filled by people who live and work in our communities.
Youth Data literacy & leadership Development
We invite all people to explore our work and participate as Citizen Scientists. We are especially excited about involving young people in this process. With Data Literacy programming, students ages 13 through 18 will learn the basics in understanding data and explore research about youth health and equity. Their experiences and interpretations will be shared with fellow students, school administrators, and community leaders through Data Storytelling Engagement Studios. Creating a certification process and skills badge are part of the program objectives to develop a pathway for students interested in STEM careers.
Community-Engaged Mentoring
We are intentional about strengthening collaborations across the Pitt community and building the mentoring network in community engaged scholarship. We work with multiple entities at Pitt to accomplish this including with Pitt's Office of Engagement and Community Affairs, the Center for Health Equity, the Center for Race and Social Problems, the Center for Parents and Children, the Office of Child Development, the Clinical and Translational Science Institute, and many other centers and faculty leaders. Intended for university undergraduate and graduate students, we envision the scope of this work to grow to include more faculty and support staff. We provide training and compensation for community members to serve as faculty mentors for health professional, graduate students, and post-doctoral trainees. The goal is to become a cornerstone for best practices in community-engaged research and scholarship, to promote transdisciplinary collaborative team science, and to grow community co-created solutions for our region's many challenges.