THRIVE
Researching Child Thriving Over Decades
Academic Co-Lead:Elizabeth Miller, M.D., Ph.D., Professor of Pediatrics, Public Health and Clinical and Translational Science, Edmund R. McCluskey Chair in Pediatric Medical Education, University of Pittsburgh School of Medicine; Co-Lead, The Pittsburgh Study
Academic Co-Lead: Barbara Fuhrman, Ph.D. Senior Research Scientist, The Pittsburgh Study, University of Pittsburgh School of Medicine
THRIVE is a large community-partnered longitudinal study, designed to follow development of young people as they grow, starting in the womb and progressing all the way through adolescence. Through surveys about individual experiences, we can identify the neighborhood characteristics, environmental conditions, policies, and practices that support families and children in Allegheny County. The study uses information about children's health, school, environment, and family interaction. We also invite parents and caregivers to share details about their health and activities. Insights from this work will be used to support thriving for all children living in our communities, to reduce disparities in health and educational outcomes, and to promote racial equity.
We use a strength-based approach in the way we interact with youth and families to explore many aspects of thriving and equity. All aspects of our work are carried out in collaboration with community advocates and residents, and our findings will be shared with the communities where we have collected information. This information will inform development of community programs and health services and will be a resource for communities as they advocate for positive change.
Our goal is to gather THRIVE metrics throughout childhood. Given the length of the study, the feedback is extraordinary when participants stay connected for multiple years over time. Flexible occasional reporting is also welcome. Everyone's input is valuable and an integral part of this work.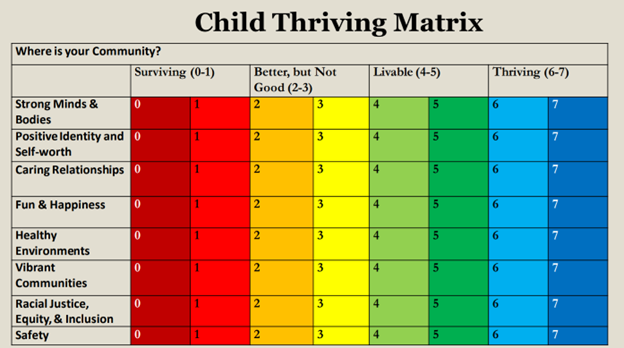 What's Involved
Twice a year, participating families complete surveys until their children reach the age of 19. While teens and middle school participants complete surveys for themselves, parents and caregivers of infants and young children complete a survey.
Who Can Join the Study?
Expecting and current caregiver(s) of babies, children, and youth up to age 18 who live in Allegheny County.
Publications
Science of Thriving and Brightspotting